Farah & Fizza

Farah Ali brings natural, creative flair and compassion for humanity to Azadi Project. As a professional Graphic Designer, with a decade long commitment to Fair Trade, Farah is inspired by how the preservation of indigenous crafts gives people a renewed hope for a better future.
"The highlight for me is connecting with people and building lasting partner relationships. Seeing the elated faces of Artisans when they share how this work has changed their lives compares to nothing else."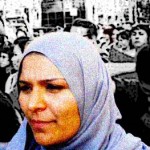 Fizza Mir's dedication to social movements, paired with her innate love of beautiful textiles, is the ideal combination for Azadi Project. Anti-oppression activism has always been a constant in Fizza's personal and professional life. As an educator she strives to instill a sense of empathy in her students.
 "Globally, people recognize that the status quo is not a sustainable option.  It's heartening to increasingly see youth make ethical choices.  I am proud to contribute to this growing consumer awareness."